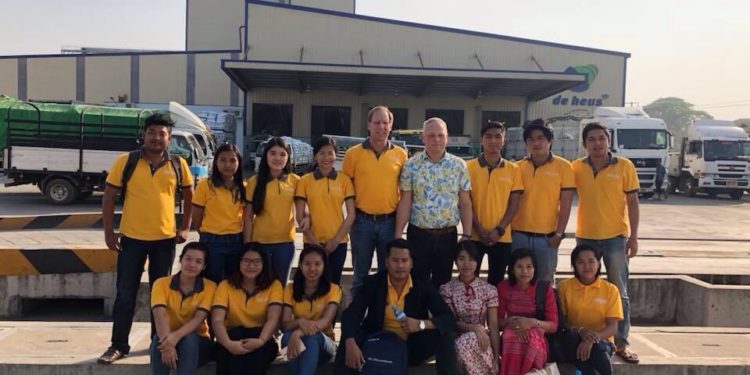 SAPA broiler trainers are ready for action
The last module, Module (3) TOT (Training of Trainers) was conducted both theoretically and practically in Myaungdakar Industrial Zone at De Heus Myanmar Feed Mill and Shwe Myayar, SAPA Demonstration Farm on a commercial farm..
The training on the topics of Nutrition and Entrepreneurship, was held from 19.03.2018 to 29.03.2018, for (10) days. This training was facilitated by poultry specialists, Ernst Beitler (Aeres University) and Jan Cortenbach (De Heus Animal Nutrition) from the Netherlands. The main focus was on nutritional value and production calculation costs related to poultry raw food materials in theoretical and practical manner. As part of the topic on entrepreneurship, a keynote speaker of Yoma bank was invited, Ko Nanda Tin. Yoma Bank currently gives out loans within the agribusiness sector in Myanmar. He explained how to contact the bank to get loans which are necessary for starting up a business in animal husbandry and what kind of facts and necessary documents the farmers need to prepare for receiving a loan.
During the 10-day-training, topics such as having the habit of making a cost calculation and daily technical record are very important for farmers to make them more aware on how they manage their farms and make them eventually more efficient and effective. The practice of keeping records really need to be improved since it is still weak among farmers in Myanmar (not only in livestock). The analysis and selection of quality raw materials is essential and it is very important to have high-quality and nutritional well-balanced food given to the broilers.
As this was the last module of the SAPA broiler training for vets, all the vets can officially and proudly call themselves SAPA-trainers. They finished three modules which touched upon farm management and bio-security, health and housing and nutrition and entrepreneurship. Besides content specific training, they were trained to become a trainer. Now they are ready to train 250 broiler farmers and 500 workers in NPT, Mandalay and Yangon! And that was reason enough for a celebration!