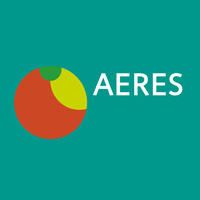 Aeres is a versatile education and research institution in the green sector, from primary agriculture to engineering and styling & design, intensive farming to biodynamic agriculture; city of greenery and ornamental plants in the greenhouse to nature and more.
Aeres provides regular education (TVET, Bachelor and master), applied research and innovation and commercial (learning) activities for individuals and businesses.
The Aeres Group was founded in January 2004 from the merger of CAH Dronten University of Applied Sciences (CAH) and Groenhorst College, an institute offering vocational agricultural education. In January 2006 Aeres Group was expanded with Stoas University of Applied Sciences and Teacher Education and in 2009 with PTC+ (Practical Training Centres).
In 2015 the Aeres Group had approximately 1.100 employees, 10.000 students (not counting the thousands of short term trainees), and a turn-over of close to € 100 million.  Aeres works in 14 towns/villages in the middle of the Netherlands and offers here education and/or services and two flex locations for services. Aeres has >10 lectors who are, among others, responsible for our research and innovation projects.
The Aeres Group wants to contribute to a green sector which produces processes and distributes food in a sustainable way; creates a (green) environment for man, animal and nature; improves the quality of life. To achieve this, the green sector need skilled, flexible and enterprising professionals. Professionals who know how to find the balance between economical, ecological and social interests. The Aeres Group wants to educate, train and coach these professionals. In addition we want to cooperate actively to innovations for and the social debate about the green sector. Nationally as well as internationally. The key activities of Aeres group are:
Providing education and training in the "green" sector: agricultural production chains, agribusiness and land management;
Designing and implementing applied research;
Training lecturers for "green" education and training;
Service provision and developing and implementing projects in its fields of expertise;
Linking to organizations and businesses in the green sector.
Fields of expertise
Aeres focusses on seven fields of expertise:
Agrifood and Entrepreneurship
Animal and Animal Health (both cattle, horse and pets)
Healthy and vital living environment
Learn and Develop (education, teacher training)
Flower
Food, Sustenance and Technology
Technique (directly or indirectly relevant to the other topics)
For each of these fields we offer a variety of activities from education and research programmes to development projects with NGO's, innovation projects with companies, commercial courses and services such as consultancy. Teachers participate in research and bring the results into our courses. In this way we can make sure they are up-to-date and relevant and will eventually contribute to competent professionals.
Within SAPA, the team of lecturers and experts from AERES group which is engaged with the Dutch based Poultry Expertise Centre will be involved with this project. The Poultry Expertise Centre (PEC) focuses on the development and diffusion of knowledge and innovations, to deal with problems and opportunities faced by the international poultry industry (www.poultryexpertisecentre.eu).