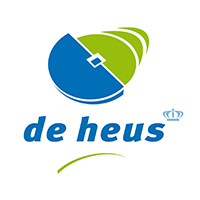 Doing business means seeing opportunities and grasping them. We do this together with our customers by constantly investing in knowledge, innovation and quality and by knowing what is important to them.
Always keeping the customers' needs or those of the sector in mind. Especially today, we see opportunities to further develop and apply our knowledge to help our customers' companies move forward, both on a national and international level. We are active where we can really contribute to progress. We always strive to do better. Complacency has no place in our company. We expect this attitude from every employee, it's something our customers also recognise in us. Our decisiveness enables us to always respond rapidly and be the driving force for our customers' progress. De Heus, powering progress.
Progress is in our genes
Royal De Heus Group is an international organization with a leading position in the animal feed industry. De Heus was founded in 1911 and has its roots in the Netherlands. After more than a 100 years the company is still owned and managed by De Heus family.
Since its founding Royal De Heus has expanded from a regional feed company to a feed conglomerate with activities in more than 50 countries in Europe, Asia, Middle East, Africa and Latin America.
Due to the rapid growth outside the Netherlands De Heus Group is a global top-15 feed supplier.Royal De Heus employs more than 4.200 people worldwide. The corporate headquarters of De Heus is located in Ede – Wageningen (the Netherlands).
Our company started production activities in South East Asia in 2009 in Vietnam. Currently, we are one of the biggest animal nutrition companies in Vietnam (1 million metric tons per year) with seven production locations. De Heus has committed itself to South East Asia and, more in particular, to support the development of the Myanmar farmers for the long term. On 1 October 2016 we will open our first feed mill in Myanmar, which will be producing in accordance with international quality standards (ISO 22000, HACCP). De Heus Myanmar will support the independent farmers in Myanmar to become more competitive by providing the highest possible quality feed in combination with technical support on the farm.
Visit the website of De Heus