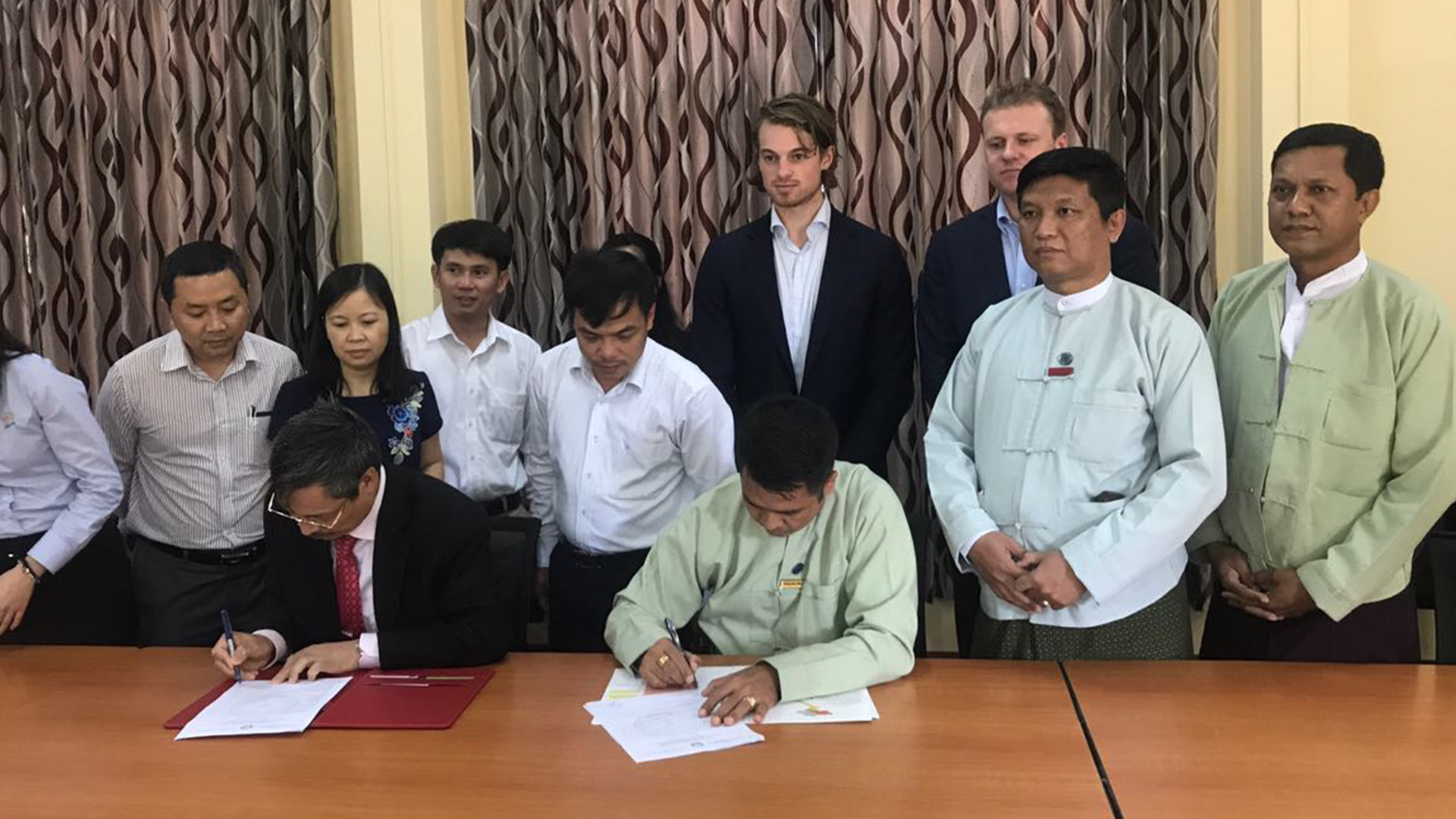 Result 1 – Project initiation phase
This result area firstly dealt with the realization of crucial formalities to actually start and continue with SAPA activities, such as establishment of partnership agreements between the various parties of the consortium, realization of MoU's with educational organisations and securing the location of the hatchery. Secondly, further elaboration on the actual SAPA activities took place and how to monitor and evaluate these activities. For example: what will be the focus and content of the technical assistance programme for both the broiler as corn farmers? Or: what are the farmer selection criteria and what is the project area for broiler and corn farmers? Finally, four baseline studies took place on corn and broilers. Two corn baseline studies in Ayerwaddy and Shan State and two poultry baseline studies in Yangon/Bago and Mandalay/NPT. All these activities started and finished in the first project year: 2015-2016.
Result 2 – Hatchery, production and sales of Day Old Chicks
Result 2 will be an ongoing activity until the end of the project and beyond. Within this result area the main focus lies on the establishment of an up and running hatchery, managed by local staff and by a Hatchery Quality Management System. The production capacity for the SAPA project will be 600,000 Day Old Chicks (DoCs) per month, starting from December 2017 onwards. Besides the production of DoCs, within this result area a parent stock farm is about to the established throughout 2018. This parent stock farm is responsible for delivering disease resistant eggs to the hatchery.
Result 3 – Establishment of the poultry training center and implementation of the professional broiler farm management training program
Result 3 can be considered as the backbone or foundation of the SAPA project: here the focus lies on the improvement of production, both in quality and quantity. And later in the project this is going to be connected with the consumer side. The start was focused on recruiting 10 veterinarians who are able and willing to become SAPA trainers of 250 broiler farmers and 500 workers. In order to train the vets, farmers and workers, poultry training centers needed to be realized. Currently, two have been established: one in Nay Pyi Taw and one in Mandalay. They are connected to a commercial farm as to show the reality as a crucial addition to the practical training.
Another crucial aspect in this result area is the development of a project standard for safe broiler production. During the SAPA project, 50 broiler farmers will be selected to start producing according to this standard to eventually offer the market a safely produced chicken.
Result 4 – Establishment sustainable produced corn farming sourcing system
Result 4 is related to the improvement of the feed corn production. The approach for this improvement is positioned in 10 activities. Firstly, corn trials are set up to collect data on the best performing corn varieties, best method of fertilizer application and best method of irrigation. Simultaneously a SAPA corn Good Agricultural Practices (GAP) production protocol is being developed. On the basis of this standard training manuals are being developed to firstly train 25 extension staff, who will eventually train 2500 corn farmers. An interesting aspect here is that the extension staff is recruited through 10 corn traders to embed sustainability throughout the whole corn chain. Out of the 2500 corn farmers, 50 super farmers will be selected to be closely monitored and to organize farmer field days at to inspire and educate other corn farmers. At the end, corn farmers should produce higher quality corn as a high quality input product for the broiler feed.
Result 5 – Development of certified professional broiler farmer group for knowledge sharing and joint sales and marketing
The basis of this result area is a broiler meat market study in which the different broiler stakeholders after production are being looked at and further analysed. During the baseline study of result 1 a glimpse has been caught of the broiler meat market stakeholders, but now more into depth. The focus lies more on to find an interested party for the safer produced SAPA chicken. Furthermore, 50 broiler farmers are selected out of the 250 trained broiler farmers to be certified according to the SAPA standard and will be closely monitored. An annual sales event will be organized to link these farmers to a wide range of traders and processors. With all the information collected out of Result 1, 3 and this result a broiler farmer group needs to be established to share all relevant and needed information for the Myanmar broiler sector to grow.
Result 6 – Dissemination, policy engagement , and consolidation 
Result 6 is a crosscutting theme throughout all the previous result areas and is concerned with sharing updates on activities done and results reached. It is related to collecting good practices and lessons learned and informing all stakeholders involved in the broiler sector. Which are not only private actors but surely also public actors on policy level. National poultry dialogues are planned to be organized to bring all relevant stakeholders together and have a dialogue on how to improve the sector based on experiences, lessons learned and good practices.